The Entry of Laughter and Forgetting
I promise that this will be the last blog entry focusing on the Melvyn Tan "controversy" (as some call it) unless there are really compelling reasons for me to talk about it. In the latest Channel NewsAsia article,
"Pianist Melvyn Tan defers public appearance after National Service furore"
, he proves to be of enduring interest.
First, before I make any analysis, allow me to express a sympathetic note (which I hope does not get misconstrued as emotional or even sappy). Just how much must a person go through for not going through NS? The news article reports: "He said he came back to Singapore knowing full well he could face a jail term." Is there any point to continue demonizing him as an irresponsible NS defaulter? Whatever unfairness one feels there is, Melvyn Tan was not the perpetrator. No doubt, he might have consulted lawyers before deciding to come back, but no lawyer could promise him that he would only get away with a fine.
On the other hand, could one not consider the anguish of someone like Melvyn Tan? A sort of anguish perhaps as inexpressible as the indignation some men who have gone through NS feel.
Allow me to emphasize once and for all that I am, in this blog and elsewhere, by no means encouraging Singaporean men to evade National Service. Neither am I falling into the other side of the polemic that shouts the importance of NS. I believe there is room for every thinking human being to put herself/himself in the shoes of others although this does not indicate support for their actions.
At the center of the so-called controversy lie human individuals. (I hope to use the term "individuals" in as unloaded a way as possible.) The recent death penalty debate has its individuals: Nguyen, his mother, his brother. So does the Melvyn Tan controversy: Melvyn Tan, his parents. Not to forget the face of each man who feels that there is unfairness. How often has the individual been reified into a faceless issue?
What happens when individuals are dissolved into a painting coated with a layer of green paint?
Look at the picture in the CNA article that I have cited: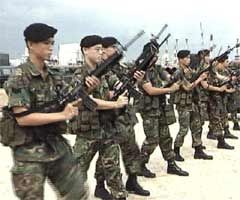 Perhaps Melvyn Tan seems to be controversial precisely because has an undissolved face—the solitary face defying a general facelessness. For a different discussion about Face, read
XenoBoy's article
.
The many who have learned to accept the dissolution of their faces (perhaps in place of a larger-than-life Face) see the return of the repressed in Melvyn Tan—a return that has become quite physical indeed.
Is the CNA article about Melvyn Tan? Or about the mass of dissolved faces confronting the uncanny appearance of Melvyn Tan? Why the picture?
Perhaps Melvyn Tan, too, has to deal with the return of the repressed. He is a face devoid of a voice:
"He said he hoped one day he would still to be able to perform in Singapore, and be able to tell through music what he has found difficult to put into words."
An unspoken anguish?
Melvyn Tan, in fact, is also faceless.
The face of controversy that he carries has been (super)imposed on him. We can no longer see him as Melvyn Tan. We can no longer see him as Melvyn Tan the pianist. We can only
know
him as Melvyn-Tan-the-pianist-who-defaulted-NS-and-paid-a-$3000-fine. The hyphens are unbreakable chemical bonds.
Can the subaltern speak? No.
Can the face of subalternity be seen? No.
Could we uncover something? Hopefully.
Are you
a
Melvyn Tan?
Important advice-cum-disclaimer: this blog entry is perhaps best forgotten by your mind and remembered by your conscience.
*For more work on memory/remembrance/forgetting, read the more recent works by XenoBoy.